PHILIPS TUV PLL 36W 4P UVC 2G11 GERMICIDAL DISINFECTION LAMP 1.4 FEET 927903404007
PHILIPS TUV PLL 36W 4P UVC 2G11 GERMICIDAL DISINFECTION LAMP 1.4 FEET 927903404007
Quantity: 9
---
---
---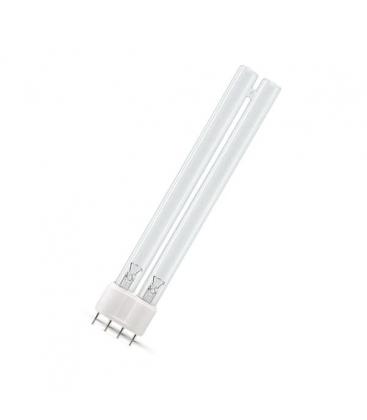 TUV PL-L lamps are compact UVC (germicidal) lamps used in residential water and air disinfection units.

PL-L 2G11 UV-C sterilization lamps TUV PL L 36W 4P UV C 2G11
Cap-Base 2G11
Cap-Base Information 4 Pins
Bulb 2xT16
Main Application Disinfection
Useful Life 9000hr
Color Code TUV
Lamp Wattage 36W
Lamp Wattage Technical 36W
Lamp Voltage 105V
Lamp Current 0.44A
UV-C Radiation 12.0W
Base Face to Base Face A 385 (max) mm
Insertion Length B 410 (max) mm
Overall Length C 415 (max) mm
Diameter D 38 (max) mm
Diameter D1 18 (max) mm
TUV PL-L lamps are compact UVC (germicidal) lamps used in residential water and air disinfection units. The compact size of the lamp allows for a small system design and design flexibility. TUV PL-L lamps offer almost constant UV output over their complete lifetime, for maximum security of disinfection and high system efficacy. Thanks to the single-ended lamp base, lamp replacement is easy.
Features

-Short-wave UV radiation with a peak at 253.7 nm (UVC) for disinfection purposes
-Protective inside coating ensures constant UV output over the complete lifetime of the lamp
-Special lamp glass filters out the 185 nm ozone-forming radiation
-High Output versions contain wind-chill correction for improved performance in moving air and reducing amount of required lamps
-High Output versions for optimum UVC output per lamp length, allowing for reduction of system size
-Warning sign on lamp indicates that the lamp radiates UVC
Applications

-Deactivation of bacteria, viruses and other micro-organisms
-Residential drinking water units
-Fish pond and process water units
-In-duct air treatment units
-Stand alone air purifiers
-Air disinfection systems in for example hospitals, universities and laboratories

EX STOCK SUBJECT TO PRIOR SALES OR INDENT!
For more informations, please kindly send us an enquiry.
Inquiry - PHILIPS TUV PLL 36W 4P UVC 2G11 GERMICIDAL DISINFECTION LAMP 1.4 FEET 927903404007
Fill out the form below and we'll be in touch soon.